the KUNOMAIL update 1.5.6 is available.
An important update for anyone who has had problems with recurring emails in the past, even though they have already been deleted. Since the barrier-free update 1.5.5, we have been working again for you to improve existing dialogues and functions. In this update 1.5.6 and the upcoming update 1.5.7, we focus on fixing bugs and optimizing existing functions.
This time there are many new features and also some improvements that we have listed for you in the release notes. You can find this either during the installation or via this Link.
We are constantly improving KUNOMAIL for you and hope you like the current version. Here are the things that are included in this update:
Activation dialog hides activate button if there is an existing ...
Optimization of the e-mail overview display, hiding the horizontal scroll bar for large resolutions
Acceleration / improvement of the start process when loading the e-mail accounts
The display of how many e-mails are loaded is available via tooltip on the columns of the e-mail overview
Audio files can be integrated either as a player or background music
Magic Editor - Font formatting improvements
The enlargement of an e-mail is no longer in the e-mail, but in the center console
Double update of a selected e-mail account during the start-up process (troubleshooting)
Magic Editor - some of the 1,000 fonts were not displayed in the emails sent (bugfix)
E-mail account folders were displayed twice (error correction)
the SPAM MANAGER dialog can now be displayed on smaller screen resolutions (error correction)
This week we have again published new YouTube videos for you on our KUNOMAIL YouTube channel.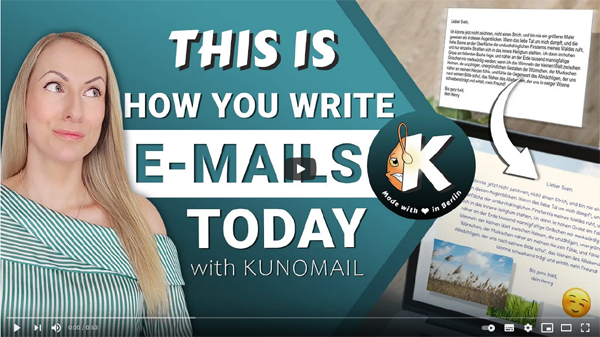 continue to the video on YouTube
Follow us there and find out immediately when there is news from KUNOMAIL.