how often do we get the feedback from our users: "It's a pity that my friends can't enjoy the e-mail I've designed in all its beauty."
Especially now that the new MAGIC Editor offers so many possibilities and really great effects are possible!
That's what we thought and decided to remedy the situation.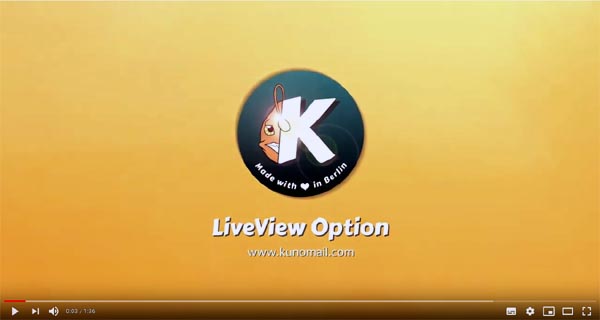 From now on you can activate the option "LiveView" when sending your e-mail. This sends a link with which the contents of your e-mail are completely visible to the recipient in the Internet browser! You can choose between 3, 5 or 7 days. The link, which of course is only known to your recipient, remains valid for this period and is automatically and permanently deleted after the selected number of days has elapsed.
We have also implemented another big feature in this update:
The selection function of emails. We have removed the check boxes. From now on, you select the e-mails in the same way as you know it from other e-mail clients. Simply use the "CTRL" key or "CTRL" + "Shift" + and left-click on your mouse.



Windows keyboard explanation
Here is an insight into the improvements in version 1.4.6
KUNOMAIL LiveView available
Messages are all unmarked ... (troubleshooting)
Deleting local emails - query like trash!
Sorting in the collected inbox is not correct. (Bugfix)
Interface extension for full screen animation
Show .eml files when KuNoMAIL is minimized
We have listed all other improvements for you in the release notes. You can find them as usual either during the installation or via this link.